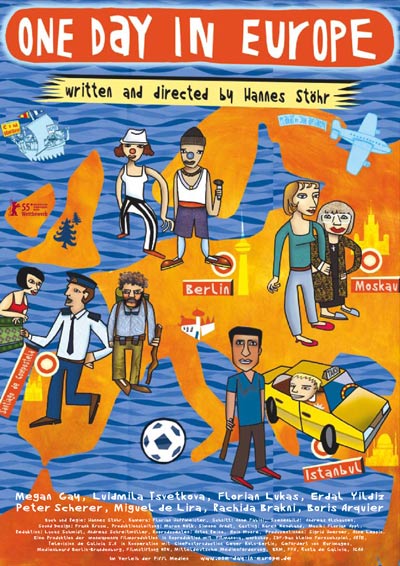 2005, ONE DAY IN EUROPE, Cinema feature film, 35 mm, 100 min, Screenplay & direction. MONEYPENNY / FILMANOVA (Esp), MBB, NRW, BKM, Euroimages, ZDF-ARTE-TV –GALICIA, BETACINEMA & PIFFLMEDIEN
Official Preselection German Film Awards 2005: Best Screenplay (Hannes Stoehr),
Best Actor – Supporting Role (Miguel de Lira & Luidmila Svetkova)
Film festivals (selection): Berlin 2005 (Competition); Istanbul 2005; Warsaw 2005;
Shanghai 2005; Brussels 2005; Vancouver 2005; Busan 2005; Hamptons 2005;
São Paulo 2005; Seville 2005; Hawaii 2005; Damascus 2005
Distribution: D (Piffl), Esp (Notro), Rus (Rusfilm), Great Britain(Peccadillo), Japan, Poland (Gutek) et al
Kurzinhalt:
Tag des Fußball-Championsleaguefinales zwischen Galatasaray Istanbul und Deportivo La Coruña in Moskau: Eine englische Geschäftsfrau (Megan Gay) und eine russische Rentnerin (Luidmila Svetkova) in Moskau, ein Berliner Rucksacktourist (Florian Lukas) und ein schwäbischer Taxifahrer (Erdal Yildiz) in Istanbul, ein ungarischer Pilger (Péter Scherer) und ein galizischer Polizist (Miguel de Lira) in Santiago de Compostela, ein französisches Straßenkünstlerpärchen (Rachida Brakni & Boris Arquier) in Berlin werden gleichzeitig in Diebstähle verwickelt. Überall herrscht Fußballfieber, den Euro gibt es auch schon, nur mit der Sprache ist es eben schwierig … (Komödie)
Log-Line:
Europe 2005: It is the day of the soccer Championsleague Final between Galatasaray Istanbul an Deportivo la Coruna in the Olympic Stadium of Moscow. An English businesswoman (Megan Gay) and a Russian lady (Luidmila Svetkova) in Moscow, a German backpacker (Florian Lukas) and a Alemanci – taxidriver (Erdal Yildiz) in Istanbul, an Hungarian (Péter Scherer) pilgrim in Santiago de Compostela and a French couple (Boris Arquier & Rachida Brakni) in Berlin are all involved with the police at the same time. Communication is lost in translation….…(Comedy)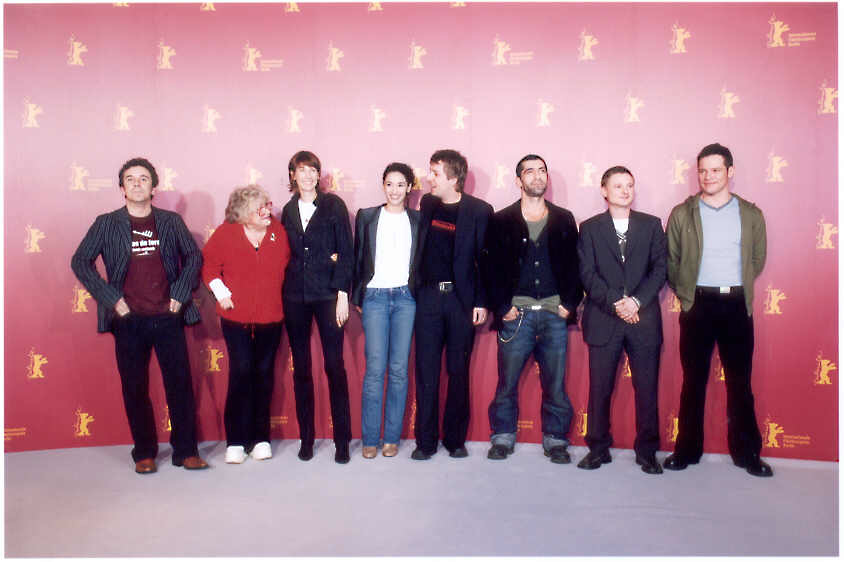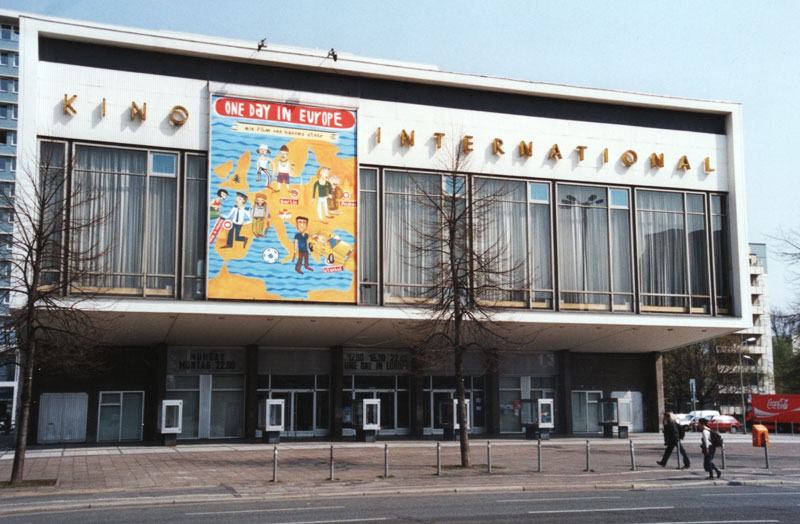 Revisión de Paco Gisbert
"Pero lo que más llama la atención del cine de Stohr es su simplicidad. Una simplicidad, facilitada por el tono de comedia que se respira a lo largo de todo el metraje, que hace de la cinta un compendio de pequeños detalles, casi símbolos, y que le abren nuevas vías de interpretación. Turcos que hablan el dialecto alemán de Suavia, franceses que no se reconocen compatriotas por proceder de París o Marsella, gallegos que intentan hacerse entender con un húngaro en la lengua de Rosalía de Castro y hasta un hooligan enloquecido del Deportivo, en un supremo cameo de Luis Tosar, que echa la culpa de la tragedia del Prestige a la policía rusa son algunos de los sutiles apuntes que deja una película que figura ya entre las favoritas para alzarse con la Luna de Valencia."
Ein Lob des Missverstehens – DIE ZEIT
In Hannes Stöhrs Episodenfilm "One Day in Europe" herrschen babylonische Zustände
Von Evelyn Finger
"Die komischste und anrührendste Szene dieser Globalisierungsposse spielt in einem Moskauer Omnibus. Während draußen die Hauptstadt des Postkommunismus vorbeifliegt, wird drinnen das Ideal der Völkerverständigung verwirklicht – von zwei Blondinen, wie sie unterschiedlicher nicht sein könnten: einer stromlinienförmigen britischen Geschäftsfrau und einer gemütlichen russischen Mama. Schon der Gegensatz zwischen der schicken Magerkeit der einen und der altmodischen Vollbusigkeit der anderen, zwischen der berufsmäßigen Nervosität und der toupierten Unerschütterlichkeit, macht deutlich, dass sie von verschiedenen Planeten stammen. Eine Laune des Schicksals hat sie zusammengeführt: Nachdem die ausländische Dame von der Moskauer Taximafia beraubt und in einem Hinterhof ausgesetzt wurde, begleitet die hilfsbereite Augenzeugin Elena Wassiljewna Petrowa sie zur Polizei.
Zunächst scheinen Ost und West durch eine unüberwindliche Sprachbarriere, durch den Eisernen Vorhang der politischen Vergangenheit voneinander getrennt. Doch dann fischt die Russin eins dieser typisch sowjetischen Konfektstücke aus ihrer Handtasche und reicht es der Engländerin mit solch beiläufiger Fürsorglichkeit, als wären sie seit Jahrhunderten bestens befreundet. Die Verbrüderungsszene dauert nur wenige Sekunden, aber sie enthält alles, was den neuen Film von Hannes Stöhr ausmacht: das kleine Individuum und die internationale Politik, den Großstadtdschungel und das globale Dorf, den humorvollen Blick auf den vom flexibilisierten Kapitalismus überforderten Menschen, die Gefahren der Reisefreiheit und die trügerische Hoffnung, ein erfahrener Tourist könnte überall heimisch sein.
Mit dem Episodenfilm One Day in Europe hat der Regisseur und Drehbuchautor Hannes Stöhr – geboren 1970 in Stuttgart, auffällig geworden durch die Ost-West-Tragikomödie Berlin is in Germany – die Vision einer europäischen Gemeinschaft auf unwiderstehliche Weise konterkariert. Er führt uns vor Augen, dass es, dem Brüsseler Parlament zum Trotz, ein grenzenloses Europa wahrscheinlich nie geben wird, sondern weiterhin verschiedene Länder und verschiedene Landsleute mit all ihren Eigenheiten. Der Russe beispielsweise glaubt, dass man Probleme jeglicher Art mit Konfekt, Wodka, sauren Gurken und stoischer Geduld löst. Der Berliner dagegen bildet sich viel auf seine nagelneuen Polizeiautos und seine gediegenen Fremdsprachenkenntnisse ein. In Istanbul schwört man auf einschüchterndes Gebrüll. Und in Spanien schafft man Konflikte durch Beschwichtigungstaktik aus der Welt.
Ein Deutscher in Istanbul, ein Ungar in Spanien, zwei Franzosen in Berlin
Stöhrs Film hat natürlich nicht die Absicht, statistisch korrekte und diplomatisch vertretbare Nationalcharaktere herauszupräparieren. Er will lediglich den komischen Mehrwert der kulturellen Differenzen abschöpfen, das Missverständnis als wichtigstes Globalisierungsphänomen etablieren und dessen gelegentliche Überwindung als einzig wahre paneuropäische Utopie ausrufen.
Fünf Reisende erleben hier das Abenteuer Ausland: eine Engländerin in Moskau, ein deutscher Versicherungsbetrüger in Istanbul, ein ungarischer Pilger in Santiago de Compostela und ein französisches Gauklerpaar in Berlin. Hannes Stöhr hat sich für sein Stationendrama vier möglichst weit voneinander entfernte Drehorte ausgesucht und sie durch mehrere dramaturgische Tricks miteinander verbunden. Alle Episoden ereignen sich am selben Tag. Alle Figuren bekommen es mit der Polizei zu tun. Und in allen vier Städten wird die normale Routine durch dasselbe Fußballspiel gestört: Galatasaray Istanbul gegen Deportivo La Coruña – ausgetragen in Moskau, ausgestrahlt in ganz Europa. Das gibt dem Regisseur Gelegenheit, ein Spiel im Spiel zu inszenieren und anstelle der jeweiligen Nationalflaggen die Farben der gegnerischen Mannschaften durch die Straßen wehen zu lassen. Rotgelb für die Türkei, Blauweiß für Spanien. Als Running-Gag und retardierendes Moment laufen die johlenden Horden der Fans immer wieder quer durch die Episoden. Sie halten das Taxi auf, mit dem der deutsche Fußballfan zur Gendarmerie fahren will, um einen Diebstahl anzuzeigen, der gar nicht stattgefunden hat. Sie laufen dem Pilger vor die Füße, der vergeblich versucht, mithilfe eines galizischen Kommissars seine gestohlene Kamera wiederzufinden.
Wie in Jim Jarmushs Night On Earth jede Figur irgendwann in ein Taxi steigt, so landen hier alle Protagonisten früher oder später auf dem Polizeirevier oder in der grünen Minna. Wie Andreas Dresens Nachtgestalten oft vergeblich auf die Hilfsbereitschaft anderer Leute hoffen, so ist hier der Beistand des diensthabenden Wachtmeisters mit Vorsicht zu genießen. Und wie in Robert Altmans Short Cuts die zwischenmenschlichen Beziehungen ständig scheitern, so laufen auch diese Helden Gefahr, am babylonischen Zustand unserer Welt zu verzweifeln. Man darf sich nämlich von Hannes Stöhrs außergewöhnlichem Talent für Situationskomik nicht täuschen lassen: Das eigentliche Thema des Films ist die deprimierende Monadenhaftigkeit des Menschen, die nur vorübergehend von einem Schutzengel wie Elena Wassiljewna gemildert werden kann.
Mit ihrer wasserstoffgebleichten Sturmfrisur und den verschmitzten Augen hinter der schaufenstergroßen Brille verkörpert sie das revolutionäre Potenzial der praktizierten Nächstenliebe. Mit ihrem russischen Charme durchbricht sie mühelos die befestigten Außengrenzen der Europäischen Union und besiegelt den internationalen Freundschaftsvertrag. Doch weil Elena einzigartig ist, wird die Revolution nie flächendeckend stattfinden. So bleiben wir europäischen Zivilisten weiterhin der Willkür der europäischen Ordnungshüter ausgeliefert: Wenn die Polizei das Fußballspiel sehen will, müssen wir brav auf das Überfallprotokoll warten. Und wenn wir aufmucken, sperren sie uns zu den randalierenden Hooligans in die Ausnüchterungszelle. Nur Elena Wassiljewna wüsste, wie man an den Schreibtischgendarmen vorbei zum Büro des Chefs marschiert und ihn mit einem sanften "Entschuldigen Sie, Herr Genosse Offizier…" dazu bringt, uns höchstpersönlich zu retten."
Cast
Moscow
Kate … MEGAN GAY
Elena … LUIDMILA TSVETKOVA
Andrej … ANDREJ SOKOLOV
Asian Officer … OLEG ASSADULIN
Female Officer … VITA SAVAL
Highranking Officer … NIKOLAI SVECHNIKOV
Deportivo Fan … LUIS TOSAR
Istanbul
Rokko … FLORIAN LUKAS
Celal … ERDAL YILDIZ
Female Officer … NURAY SAHIN
Highranking Officer … AHMET MÜMTAZ TAYLAN
Santiago De Compostela
Gabor … PETER SCHERER
Sargento Barreira … MIGUEL DE LIRA
Cabo Lucas … GOLDI MARTINEZ
Agente Ana … MONICA GARCIA
Thief … VICTOR MOSQUEIRA
Lover … MARTA PAZOS
Rosalia … BLANCA CENDÁN
Owner of the tavern … PATRICIA DE LORENZO
Guests in the tavern … JESUS RON, KALIN FOZ
Berlin
Rachida … RACHIDA BRAKNI
Claude … BORIS ARQUIER
Female Officer … KIRSTEN BLOCK
Male Officer … TOM JAHN
Facundo … FACUNDO DIAB
Crew
Director & Screenplay … HANNES STÖHR
First Assistant Director … PETER WEDEL
Storyboard … ARTURO SALVADOR
Casting … KAREN WENDLAND
Director of Photography … FLORIAN HOFFMEISTER
First Assistant Camera … JÖRG GRUBER
Clapper / Loader … HELEN SABATZKI
Gaffer … GILMAR STEINIG
Production Designer … ANDREAS OLSHAUSEN
Prop Master … PETER NAGUIB
Costume Designer … DANIELA SELIG
Assistant Costume Designer … NICOLE HUTMACHER
Sound Mixer … FRANK KRUSE
Boom Operator … PATRICK VEIGEL
Editor … ANNE FABINI
Assistant Editor … NINA CASPERS
Composer … FLORIAN APPL
Orchestration … CHRISTIAN SADE
Sound Design … FRANK KRUSE
Dialogue & Foley Editor/ Recordist … HANSE WARNS
Foley Artist … CARSTEN RICHTER
Re-Recording Mixer … ROBBY JÄGER
Title Artists … JIM AVIGNON, NEIL REYNOLDS
Post Production Supervisor … MELANIE BERKE
Unit Prod. Managers … SIMONE ARNDT, MAREN WÖLK
Assistant Unit Prod. Manager … JULIANE HEICKEN
Production Intern … CHRISTIANE ENDERS
Accountant … FLYING MOON FILMPRODUKTION
Accountant … URSULA GILL-GAIDA
Co-Producer … FILMANOVA S.L., ANTÓN REIXA
Co-Producer Filmanova Invest S.A.
… DIEGO MAS TRELLES
Financial Director Filmanova Invest S.A.
… CARLOS PÉREZ SAMPEDRO
Financial Director Filmanova S.L. … LORENA CAMPO
Marketing Director … CANI MARTÍNEZ
Production Coordinator … ELENA COUTO
Production Assistant Filmanova … LUZ CHOUZA
Content Supervisor … XOSÉ MORÁIS
Co-Producer … WORKSHOP, EOIN MOORE
In Cooperation with
… CINEPOSTPRODUCTION GmbH & Co. KG
GEYER KÖLN, GEYER BERLIN
WOLFGANG KRUSCHE, ANJA KUHWEIDE
Line Producer Moscow
… LE VISION FILM- & FERNSEHPRODUKTION,
SIMONE BAUMANN
Line Producer Istanbul
… YALAN DÜNYA PRODUCTIONS, GÜLEN GÜLER
Commissioning Editors … LUCAS SCHMIDT,
ANDREAS SCHREITMÜLLER, CARLOS CARBALLO
Producer … MONEYPENNY FILMPRODUKTION
ANNE LEPPIN & SIGRID HOERNER
MOSCOW UNIT
Unit Manager … THOMAS SCHMIDT
Production Manager … IRINA MITROFANOVA
Assistant Production … MARIA STEPANENKO
Accountant … EKATARINA MEDVID
Secretary … SVETLANA SCHARDAKOVA
Script / Continuity … OLEG ASSADULIN
Assistant Prop Master … GENNADIJ MIRONOVICH
Costume Assistant … KATJA MALOFEEWA
Wardrobe … KATJA BARANOVA
Make-Up … CLAUDIA SCHAAF
Assistant Make-Up … HELENA TUPATILOVA
Still Photographer & EPK … MAX EFROS
Camera Trainee … JEWGENI MURATOV
Video Operator … NATASHA MICHAILOVA
Best Boy Electric … ANATOLIJ NESNANOV
Electricians … VICTOR FEDSCHENKOV,
ALEXANDER SVESCHNIKOV, SLAVA PETUCHOV, ALEXANDER JEGOROV
Key Grip … IGOR KIRILLOV
Assistant Key Grip … VLADISLAV KOROLJOV
Best Boy Grip … ANDREJ POPOV
Dolly Grip … ALEXANDER PANCHENKO
Assistant Dolly Grip … ANDREJ FEDIN-KRUGLOV
Location Manager … DIMITRI TORCHINSKI
Transportation Manager … ALEXANDER ZEPINSKI
Location Scout … ILJA PODGAETSKI
Set Managers … BORIS SCHALIN, KYRILL KURENKOV
Set Runners … ILJA BUDANOV, IGOR BASANOV
DIMITRI PAVLOVSKI, ALEXANDER KUTCHENKOV
Drivers … SERGEJ LARKOV, VALERIJ STEPANOV, ANDREJ KOTOVSKI, IGOR OSTROWSKI,
VALERIJ SEWASTIANOV, OLEG SCHATALOV,
OLEG MARTINOV, ALEXEJ NEKRASSOV,
ALIK BALIKUJEV, ALEXANDER PIMASCHKIN,
ANATOLIJ BESSONOV NIKOLAI BOROVLJOV
Catering … ANNA KARPENKO & ANNA LAVRENCHENKO
Grip & Lighting Equipment … CINE LAB LTD.
ISTANBUL UNIT
Production Manager … ÖZLEM YURTSEVER
Production Secretary … NÜKHET KARVANLI
Accountant … ERHAN ÖZOGUL
Assistant Accountant … EMRE COSAR
Second Assistant Director … ILKE ABUR ERÇIN
Script / Continuity … ELIF REFIG
Art Director … EMEL GÜNTAS
Prop Master … BURAK AKDENIZ
Assistant Prop Master … TOLGA PAKMAN
Costume Assistant … GÜNES ÇOBAN
Wardrobe … ISMAIL GÜNES, ERCAN SÖNMEZ
Make-Up … EMINE TÜRK
Still Photographer … EMINE BERKAN
EPK … GÜLSAH KÖSE
Camera Trainee … FATIH YILMAZ
Video Operator … HÜSEYIN BASARICI
Best Boy Electric … ÜMIT BARNAS
Electricians … RAUF AYAR, ÖZGÜR BASARAN
Assistant Electricians … ZAFER ÖZSOY,
KAYHAN YILMAZ
Key Grip … ANDREAS FREY
Grip Assistants … ADNAN AYDIN, CÜNEYT KAYAR
Assistant Dolly Operator … MUSTAFA ASLAN
Location Manager … SEZAN TANAÇAN
Set Manager … MENDERES DEMIR
Assistant Set Manager … SELIM ELTAS
Location Assistants … ALIKILIÇ, ALAZ AKDOGAN
Drivers … BÜLENT BAYRAKTAR, FAHRETTIN AKCA,
TIMUR AKAR, AHMET YAMAN, HASAN GÜNEY,
VAHAP ÖZTAN, MÜSLÜM BAYDAR, BARIS ERTEKIN,
Catering … TURKUAZ CATERING
Lighting Equipment … O.R.I.O.N. LIGHTING CREW /
Grip Equipment … TEM STÜDYOLARI / ALTUGACAR, SET POZITIF
Security … AKAY SECURITY, MURAT KARADERELI,
KADIR KARAHASAN
SANTIAGO DE COMPOSTELA UNIT
Production Manager … JAVIER EIRIS
Production Assistant … AMANCAY TAPIA
First Ass. Director … NACHO FERNÁNDEZ DE TEJADA
Second Ass. Dir. … JOSÉ MARÍA DEL ÁLAMO "PELA"
Third Assistant Director … REBECA ROSALES
Script / Continuity … LORETO MARTÍNEZ
Assistant Production Designer … SANDRA FRANTZ
Props Driver … FRANCISCO ARNOSO "PIXI"
Assistant Costume Designer … BELÉN BRANDIDO
Wardrobe … NATHAN JOHN
Make-Up … FANNY BELL
Hair Stylist … OSCAR ARAMBURU
Still Photographer / EPK … PABLO ANLLO
Video Operator … ISABEL REGA
Best Boy Electric … DAVID MELERO
Electricians … ALBERTO DÍAZ "BERTITXI",
DAVID CASTRO, JUAN FIGUEIRA
Key Grip … GORKA ESKISABEL
Grip Ass. … JUAN LAMATA, JOSÉ MANUEL "CARIÑO"
Location Manager … JORGE EIROA
Set Manager … MIGUEL MARIÑO
Ass. Set Managers … ANA MARIÑO, JAVIER NÁJERA
Set Runners … ANGHARAD DOMINGEZ
Location Scout … BEATRIZ DEL MONTE
Accountant … LORENA LÓPEZ
Assistant Accountant … CRISTINA MARTÍNEZ
Development Assistant … TATIANA DOCAMPO
Filmanova Secretary … ÉRIKA ALONSO
Catering … RUTA JACOBEA
Lighting Equipment … LUZPUNTUAL
Grip Equipment … GINDASTRES DE CINEMA
CAR & CRANE
Financial Services … CAIXANOVA
Tax Consultant … FISCAL 36 S.L
Legal Services … ECIJA
Berlin Unit
Second Assistant Director … MADLI MOOS
Third Assistant Director … ILKER ÇATAK
Script / Continuity … DINAH RAUENBUSCH
Assistant Prop Master … STEFANIE GRANITZA
Props Driver … JENS VOGT
Wardrobe … NICOLE EBBEN
Additional Wardrobe … ANGIE POKORNI
Make Up-Artists … CLAUDIA SCHAAF
STEFFI WILLMANN
Still Photographer … NADJA KLIER
EPK … LAWRENCE TOOLEY
B-Camera Operator … OLIVER LECHNER
Camera Trainee … ANDY HAAS
Video Operator … SEBAHAT ISMAIL
Best Boy Electric … GEORGE BOZKURT
Electrician … FRANCO BERTONE
Assistant Electrician … SALVATORE BERTONE
Additional Electricians …FLORIAN KRONENBERGER,
SVEN TREBUS, AXEL SMOLLICH
Key Grip … ANDREAS FREY
Best Boy Grip … ULI GROOS
Crane Operator … WOLFGANG FRANKE
Location Manager … GERNOT SPRENGER
Assistant Location Manager … ISABEL PAUL
Set Manager … STEPHAN BECHEM
Assistant Set Manager … KRISTINA HABEL
Location Assistants … SIRKKA KLUGE,
LENA AMANDA KOCH
Location … Scout LOCATION NETWORX /
ROLAND GERHARDT
Drivers … CHRISTOPH HEIM,
PATRICIO TRONCOSO, JESCO HERRMANN
Extras Casting … WATERGATE CASTING
ANTJE MISSBACH & BARBARA SCHULZE
Casting Assistant … KATHARINA STEINBERG
Casting Assistant Budapest … RITA LENGYEL
Stunt Coordinator … MICHAEL MOHR
Catering … ANNETTE SEGGERT
Orchestra
DEUTSCHES FILMORCHESTER BABELSBERG
Conductor … BERND WEFELMEYER
Line Producer … KLAUS-PETER BEYER
Recording Engineer … MICHAEL SCHUBERT
Recording Assistant … ULI ELFERT
ProTools Operator … FALKO DUCZMAL
Guitars KOSHO, THOMAS HOPF, STEVIE ROCKET
Baritonsax … NIK LEISTLE
Organ … PEER NEUMANN
Percussion … ERWIN DITZNER
Drums … DOG KESSLER
Bass … KNUT KNUTSON
Piano … FLORIAN APPL
Programming … MAX MANZANA
Recorded at … P1 MARKO BIRKNER
Mixed at … TRITONUS STUDIO BERLIN
MARKO BIRKNER & GERD KRÜGER
'Beskow'
Music by Paul Kalkbrenner
Published and Licensed by Paul Kalkbrenner
'Pobre Tipo 2'
Sonido Tres, Lyrics & Music by Diogenes Nodarse
Published and Licensed by Diogenes Nodarse
Film Laboratory … CINEPOSTPRODUCTION GmbH & Co. KG GEYER KÖLN + GEYER BERLIN,
Coordination … RENATE LEISERING, MARLO BOELENS
Telecine … CINEPOSTPRODUCTION GEYER KÖLN
Transfer … CINEPOSTPRODUCTION
GEYER BERLIN
Graders … FABIANA CARDALDA GÜNTER SACK
Camera & Lighting Equipment … CINEGATE BERLIN BERND HÜBNER & BEATE EHRENTRAUT
Anamorphic Lenses … VANTAGE FILM GmbH, ANDREAS TEICHNER
Film Stock … FUJI KINE FILM, COLIN ULLMANN
Sound Equipment … KORTWICH FILM-TON-TECHNIK
Insurance … ASSEKURANZMAKLER F. GOSSLER
Legal Consultant … KAI MAY,
UNVERZAGT – VON HAVE, BERLIN
Tax Consultant … AWV, MATTHIAS ALTHAUS
Financial Consultant … ACHIM THIELMANN
COMMERZBANK BERLIN
Car Rental … CAR MOTION SERVICE,
STEPHAN EPPINGER
Blocking & Walkies … SCHÖNWITZ FILMSERVICE
Make-Up & Costume Trailer … HIAS BERLIN
Motorhomes … NEELSMOBIL GmbH
Trailer … MOVING CINE COMPANY
Cherry Pickers … MATECO, BERND KLOSS
Shipping … MULTI LOGISTICS
Travel Agents … REISESERVICE GISELA LENTHIN,
REISEBÜRO NAGEL
Translators … MARCO BRAUN, RITA LENGYEL,
JETTE MÜLLER, ELENA PODLUBNAJA, NURAY SAHIN, ARTURO SALVADOR, ELKE WEBER-MOORE
Interpreter … MARIA GERHARDT
Subtitling … ALIAS FILM & SPRACHTRANSFER
DAGMAR JACOBSEN
Sports Commentators
Germany … ROLF TÖPPERWIEN
Spain … MIGUEL FERNÁNDEZ PÉREZ
Great … Britain DESMOND SQUIRE
France … MICHÈLE MARIE REBER
Hungary … RITA LENGYEL
Russia … MARIKA GIORGOBIANI,
OLEG ZINKOVSKI
Turkey … MÜNÜR BAGRIACIK, GÜRAY KISMIR
funded by… EURIMAGES, MEDIENBOARD BERLIN-BRANDENBURG, FILMSTIFTUNG NRW, MITTELDEUTSCHE MEDIENFÖRDERUNG, BKM, XUNTA DE GALICIA, ICAA
Script funded by … FFA
World Sales … BETA CINEMA
Distribution Germany … PIFFL MEDIEN
Reviewed by David Mattin
"There's no comedy quite like the comedy of cultural misunderstanding. And in One Day In Europe, German director Hannes Stöhr gives us four such examples with separate, but thematically linked stories set in Moscow, Istanbul, Berlin and Santiago de Compostela on one single day. This is a funny, heartfelt film, and its panoramic sweep across Europe feels curiously, satisfyingly intimate.
Excellent casting and narrative craft are at the heart of this movie's success. Stöhr's skill as a story-teller means that his four brief stories – though hardly momentous – capture the attention completely. There's German student Rocco (Florian Lukas) who fakes a mugging to swindle his insurance and then suicidal Hungarian Gabor (Péter Scherer), on a pilgrimage around Europe's cathedrals. From Kate, a bitchy English businesswoman in Moscow who becomes reliant on eccentric old local, Elena (Ludmila Tsvetkova) to guide her to the police after she is robbed in Moscow, to French street performers Claude (Boris Arquier) and Rachida (Rachida Brakni), stranded in Berlin and unable to speak German, we revisit themes of cultural crossfire and miscommunication, trust among strangers, and the flowering of brief, unlikely friendships.
"TOUCHING, FUNNY MOMENTS"
What really fascinates Stöhr, it seems, is the idea of Europe; will it ever work, he wonders, or are Berliners, Parisians, and Muscovites forever to be strangers to one another? Perhaps football – all eyes are turned, on this day, to the Champion's League Final in Moscow – is the mutual enthusiasm that can unify us? Still, this is a movie full of touching, funny moments; just see the brilliant scene in which Elena eagerly foists Russian vodka and pickles on a bewildered Kate. It's those warm-hearted, human instants, here, that cause these four stories to become much more than the sum of their parts."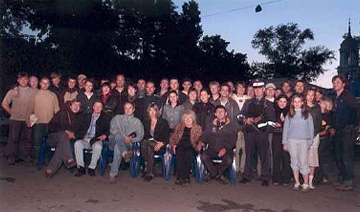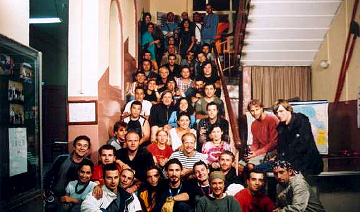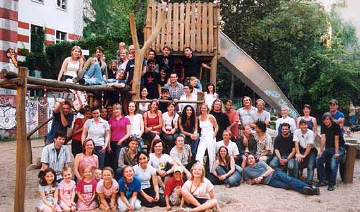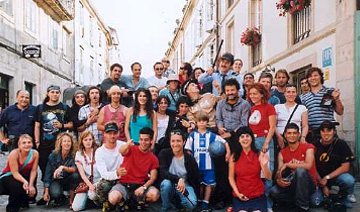 Crew Santiago De Compostela
Documentary: Santiago de Compostela –Cruce de Miradas by Antón Reixa